In this article, we will share our research results with you along with reviews on several products that we've tested to give you the most suitable answer.
With the release of Coffee Lake, the 8th Generation of Intel CPU's, a lot of innovative features came with it, such as the 6 Cores & 12 Threads CPU's like the I7 8700K; these are just some features we haven't really seen before from Intel since for the past 6 years all we've gotten were I7's with 4 cores and 8 threads. If you're planning on buying an I7 8700K, you've made the right choice to check out this review because we will let you know the best motherboard for I7 8700K.
Picking the right motherboard for your CPU is extremely important; not only will it allow you to use your new & powerful CPU to its full potential, but it will also help you overclock to go above its limits when done with caution. However, the most important feature that you absolutely can't neglect is that a good motherboard will protect your CPU from power shortages, which may completely ruin your whole system. If you're gonna invest enough money in a top-tier CPU might as well invest a bit more in a good motherboard and make sure your system will be in perfect shape for years to come.
Regarding the motherboards that you should get to go with it, you should always go for a Z370 as they'll allow you to do everything you want to do with them. Let's not wait any longer and dive right into it.
Our Recommendations
Best Motherboards for i7 8700K at a glance:
So here is my list of The 5 Best Motherboards for i7 8700K
The best motherboard for the I7 8700K is the MSI Z390-A PRO, the i7 8700K features the "K" Unlocked version which means that it supports overclocking, as you want to get a motherboard that will provide you with the support to do so.
1. MSI Z390-A PRO – Best Overall Motherboard for i7 8700K
REDUCED PRICE
MSI Z390-A PRO LGA1151 (Intel 8th and 9th Gen) M.2...
Supports 9th i9-9900K, i7-9700K, i5-9600K and 8th Generation Intel Core / Pentium Gold / Celeron processors for LGA 1151 socket
Supports dual channel ddr4 memory, up to 4400(oc) MHz
Turbo M.2: PCI-E gen3 x4 interfACe maximizes performance for NVME SSDS
Core boost, 8+4 pin CPU power connector, ddr4 boost
Built for reliable operation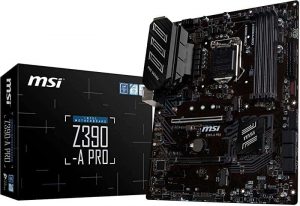 The MSI Z390-A PRO is the most overall motherboard in the list but it's also the best, it has all the features you will ever desire a motherboard to have. If you get this board, you absolutely won't regret it.
The MSI Z390-A PRO is not a new top dog contender in the motherboard world, its previous models have been around for several years always being considered one of the best if not the absolute best for their respective LGA/Socket/Chipset, this one features the Z370 chipset which allows you to use it with the I7 8700K, it comes with an auto-tuning feature if you wish to overclock. This will save you a lot of work in the future.
A high-quality audio system that supports 4x DDR4 for a maximum RAM of 128GB at a maximum of 4400mhz (OC).
+ BIOS looks awesome as the previous models
+ Tons of 16x PCIe Ports
+ Allows Overclocking and comes with auto-tuning
2. Gigabyte Z390 AORUS PRO WIFI – Best WI-FI Motherboard For i7 8700K
GIGABYTE Z390 AORUS PRO Wi-Fi (Intel...
Supports 9th and 8th Intel Core processors
Dual channel non-ECC unbuffered DDR4, 4 DIMMs
Intel optane memory ready
12 plus 1 phases digital VRM solution with DrMOS
Advanced thermal design with multi cuts heatsinks and heat pipe. Bluetooth 5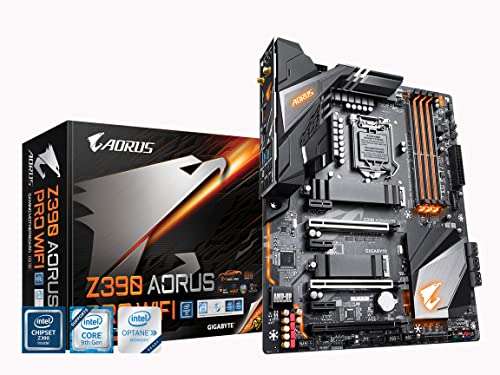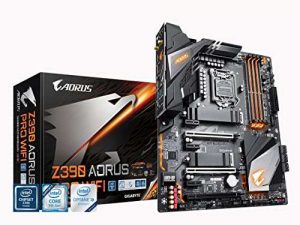 The Z370 AORUS PRO WIFI is a close match with the previous one, it has almost all the features the other one has excluding a few, and that's why we chose to make it the top #2 on the list.
It's a beautiful board however it does not have the auto overclock tuning that the MSI Z390-A PRO had, and it does not have onboard wifi either. These are the 2 most important features that it's lacking when compared to the MSI Z390-A PRO, there are a few more differences, but they aren't as important as these. However, it's also cheaper.
If you don't care much about the overclock auto-tuning nor the fact that it comes with no onboard wifi, then this may be the best choice for you.
+ BIOS looks good
+ Tons of 16x PCIe Ports
+ Allows Overclocking
+ Decent Price / Cost Ratio if you don't mind the missing features
– No auto-tuning when overclocking
– No Onboard Wifi
3. ASUS PRIME Z370-A – Best Budget Motherboard for i7 8700K
ASUS PRIME Z370-A LGA1151 DDR4 DP HDMI DVI M.2 USB...
Designed exclusively for 8th generation Intel Core processors to maximize connectivity and speed with Dual M.2, USB 3.1 Gen2, Intel Thunderbolt 3 support and Intel Optane Memory compatibility
5-Way Optimization with Auto-Tuning and FanXpert 4 automatically tailors overclocking profiles to your unique build for maximum OC performance and dynamic system cooling
Unmatched Personalization with ASUS exclusive AURA Sync RGB lighting, additional RGB header and 3D-printing mounts; Supports DisplayPort with max. resolution 4096 x 2304 @ 60 Hz
Two Patent-pending Safe Slots feature an injection molding process that integrates metal framing for a stronger, firmly anchored PCIe slot built for heavyweight GPUs ; 4-pin PWM/DC fan
Industry-leading 8-channel HD audio enhanced by ASUS exclusive Realtek S1220A featuring Crystal Sound 3 and driven by Japanese capacitors for warm, immersive sound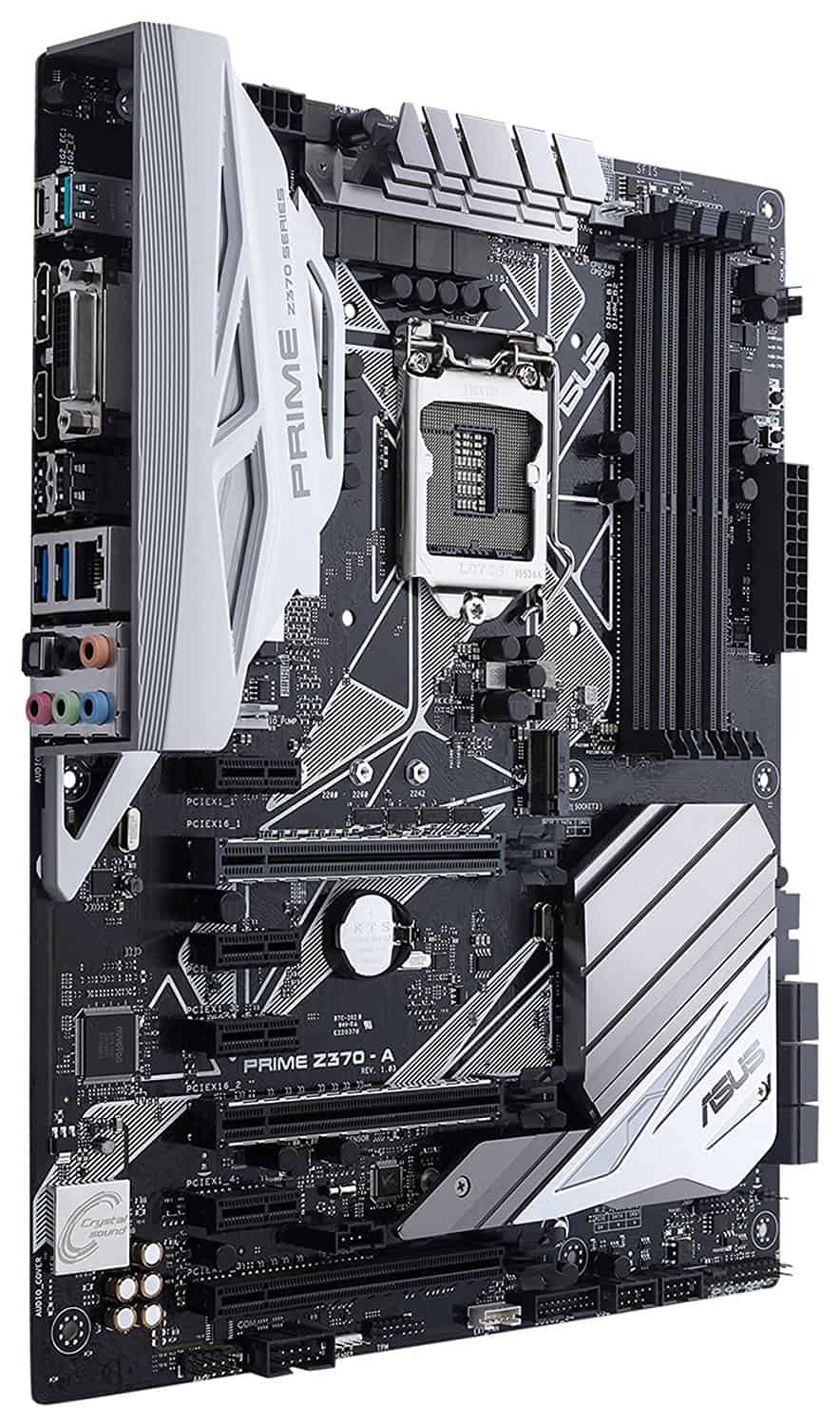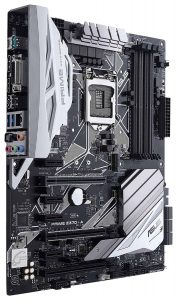 We call this one the best Z370 Motherboard but not in the literal sense, the MSI Z390-A PRO and the Gigabyte AORUS PRO WIFI are still better than this one regarding features & general performance. However, this one isn't much different from these 2 it's quite cheaper than both of them, it has an excellent price/performance ratio, and that's something we value a lot!
While it doesn't look as good as the other 2 motherboards it's still capable of doing its job properly, it even comes with the overclock auto-tuning that the AORUS PRO WIFI didn't have! There are a few downsides that don't quite make it as good as the other 2 but other than that, this motherboard is a perfect choice for anyone wanting to save some money while still making sure they're buying a high-quality motherboard!
+ BIOS looks good
+ Tons of 16x PCIe Ports
+ Allows Overclocking with auto-tuning feature
+ The MOBO for the price it costs, awesome value
– Only allows the RAM up to 4000MHz (the others allowed to 4133 OC'd)
– The soundcard isn't as good as the other 2 boards
– No onboard wifi
4. MSI B360 Gaming Plus – Best B360 Motherboard for i7 8700K
MSI Performance Gaming Intel Coffee Lake B360 LGA...
Supports 9th / 8th Gen Intel Core / Pentium Gold / Celeron processors for LGA 1151 socket, Supports DDR4 Memory, up to 2666 MHz
MYSTIC LIGHT and Sync: Personalize your PC with 16.8 million colors / 10 effects controlled in one click with the Mystic Light APP or a mobile device
Lightning Fast Game experience: TURBO M.2, Intel Optane Memory Ready. Intel Turbo USB 3.1 GEN2
AUDIO BOOST with NAHIMIC: Reward your ears with studio grade sound quality for the most immersive gaming experience, VR Ready: Best virtual reality game experience without latency, reduces motion sickness
In-Game Weapons: GAMING Hotkey, X-Boost, Voice Boost
5. ASRock B365M PRO4 – Best MicroATX Motherboard for i7 8700K
ASRock B365M PRO4 LGA1151/ Intel B365/ DDR4/ Quad...
CPU: LGA1151, Supports 9th/ 8th Generation Intel Core Processors, CPU up to 95W
Chipset: Intel B365
Memory: 4x DDR4-2666/ 2400/ 2133 DIMM Slots, Dual Channel, Non-ECC, Unbuffered, Max Capacity of 64GB
Slots: 2x PCI-Express 3.0 x16 Slots (single at x16; dual at x16/ x4), 1x PCI Express 3.0 x1 Slot (Flexible PCIe)
Multi-Graphics: Supports AMD Quad CrossFireX and CrossFireX Technology
Top 5 motherboards for the i7 8700K:
MSI Z390-A PRO – Best Overall Motherboard for i7 8700K:

Our Top Pick

GIGABYTE Z370 AORUS PRO WIFI – Second best, just slightly under the MSI Z390-A PRO
ASUS PRIME Z370-A – Cheapest board if you're on a budget, still a good pick
MSI B360 Gaming Plus – Best B360 Motherboard for 8700K
ASRock B365M PRO4 – Best MicroATX Motherboard for 8700K
Our Final Recommendation Overview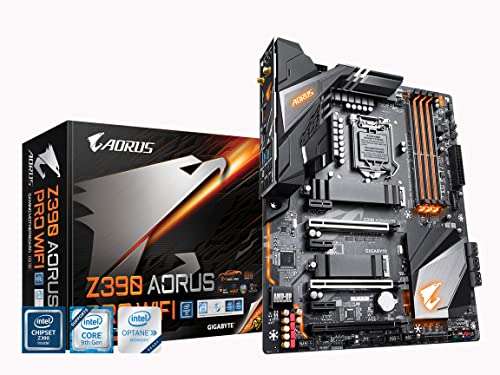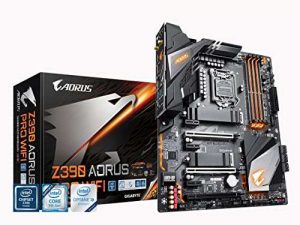 If you want the absolute best then the MSI Z390-A PRO is without a doubt the option for you, it'll provide you with everything you could desire and you won't have the need to replace it anytime soon for quite a few years, however, if you want to save a bit of money and don't care much about the missing onboard Wifi & the lack of auto-tuning when overclocking then Gigabyte AORUS PRO WIFI is your choice as it is relatively similar to the MSI Z390-A PRO while being a bit cheaper.
To save as much money as possible, while not getting something top of the line then the ASUS Prime Z370-A is your best bet as it provides the necessary needs for maximizing the potential of the other components, and it's A LOT cheaper than the other 2 options.
Intel Core i7-8700K Processor Review
REDUCED PRICE
Frequently Asked Questions
Are the Z370 Motherboards Backwards Compatible?
No, they are not, unfortunately, the Z370 despite using the same Socket as the previous couple of generations, they're not backward compatible, if you wish to change the CPU you must make sure it's from the same generation as the Z370.
Can The Z370 Overclock?
Yes, if you've got a good quality one you should be able to overclock as long as you do it safely & adequately to avoid any hardware damage.
Which is the Cheapest Z370?
The cheapest as mentioned above would be the ASUS Prime Z370-A there are a couple of other models slightly less expensive, but I wouldn't recommend you buy any motherboard that is a direct downgrade of the ASUS Prime Z370-A.
Round up of today's best deals
| | | | |
| --- | --- | --- | --- |
| | ASUS Prime Z390-P LGA1151 (Intel 8th and 9th Gen)... | $235.95 | VIEW |
| | ASRock B365M PRO4 LGA1151/ Intel B365/ DDR4/ Quad... | $96.99 | VIEW |
| | MSI MPG Z390 Gaming Plus LGA1151 (Intel 8th and... | $288.86 | VIEW |
| | ASUS B250 MINING EXPERT LGA1151 DDR4 HDMI B250 ATX... | $999.00 | VIEW |
| | Biostar TB360-BTC PRO 2.0 Core i7/i5/i3 (Intel 8th... | $207.99 | VIEW |