The i7 9700K is the latest high-end processor from Intel. It came with the Coffee Lake Refresh architecture which changed the hardware world upside down, and if you're here then you're eager to find out which is the best motherboard for i7 9700K, don't worry, we got the perfect choices for you!
Our Recommendations for i7 9700K
Top 5 Best Motherboards for i7-9700K
Scroll down if you wish to go straight to the motherboard reviews instead of reading the following introduction.
1. MSI Z390-A PRO – The Best Overclocking Motherboard for i7-9700K: Top Pick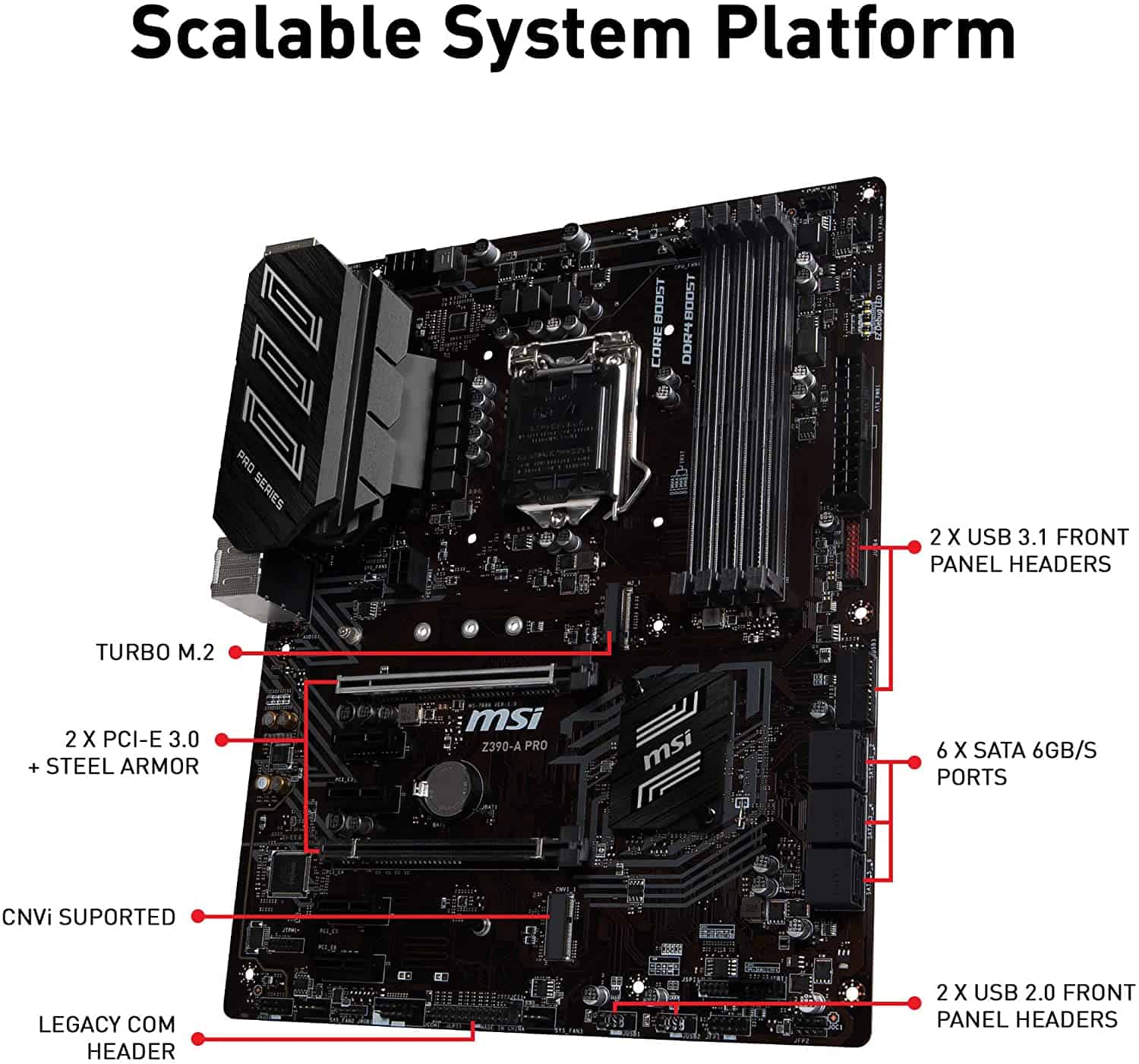 Very few factors actually differentiate the High-end motherboards, however, the MSI Z390-A PRO is without a doubt the top tier choice for your gaming needs.
Everything you may look for in a motherboard, we guarantee you this one will have it, the "MSI PRO" franchise has been considered to be the best at what they do for years, and once again, after the release of Intel's 9th generation, they yet again surprise us with these amazing designs and features.
+ Beautiful Design
+ 2x USB 2.0 Headers
+ 2x USB 3.2 Gen 1 Headers
+ Socket LGA1151
+ Chipset Intel Z390
+ RAM 128 GB DDR4 MAX
+ 4X RAM Slots
+ CrossFire Capable
+ 2x PCI-E x16 Slots
+ 4x PCI-E x1 Slots
+ Turbo M.2
+ 6x SATA 6 Gb/s
+ Allows CPU & RAM OC
+ Highly regarded as the top 1 consumer choice
+ High Satisfaction Rate
+ Most features and extras when compared to all other options on this list
– None we could find, unless not being the cheapest counts? Haha 🙂
2.
ASUS ROG Strix Z390-E Gaming – Alternative to the MSI Z390-A PRO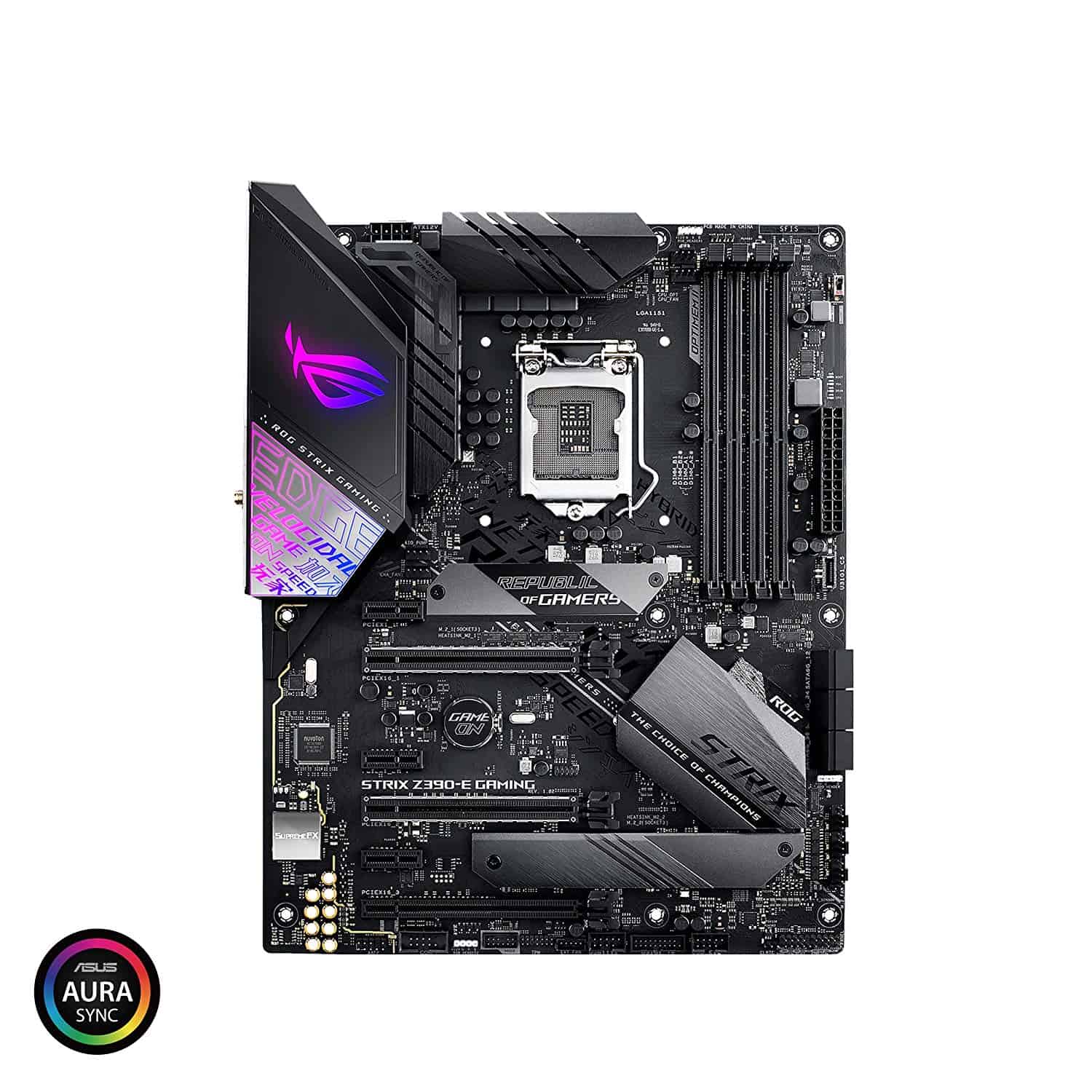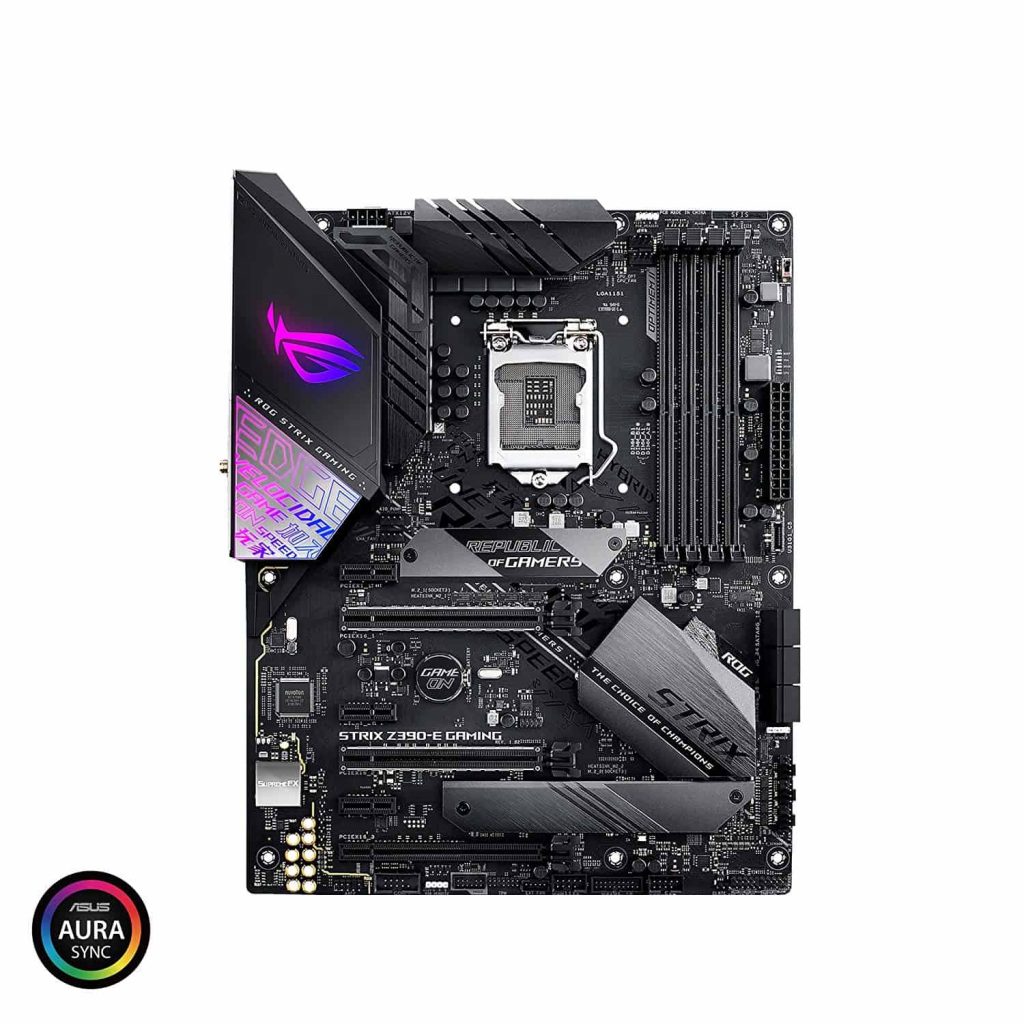 The ASUS ROG Strix is just like the MSI Z390-A PRO, a top tier choice, some prefer the MSI Z390-A PRO while some prefer the Strix franchise, however, the truth is that even in the previous generations, the differences between them is always close to none, it only lacks in one small aspect compared to the MSI Z390-A PRO which is the maximum RAM Speed it allows (4266MHz OC, when compared to MSI Z390-A PRO 4400Mhz OC).
+ Beautiful Design
+ 2x USB 3.1 Gen1
+ 2x USB 3.1 Gen2
+ 2x USB 2.0
+ WIFI Incorporated
+ Display Port 1.2
+ HDMI Display Port
+ SupremeFX S1220A Sound Card
+ 4x DDR4 RAM (Up to 64GB)
+ Allows CPU & RAM OC
+ High Satisfaction Rate
+ Similar to MSI Z390-A PRO, a good alternative
– RAM 4266Mhz OC when compared to MSI Z390-A PRO 4400Mhz OC
– More expensive than the MSI Z390-A PRO
3. ASUS Prime Z390-A – Great budget motherboard for overclocking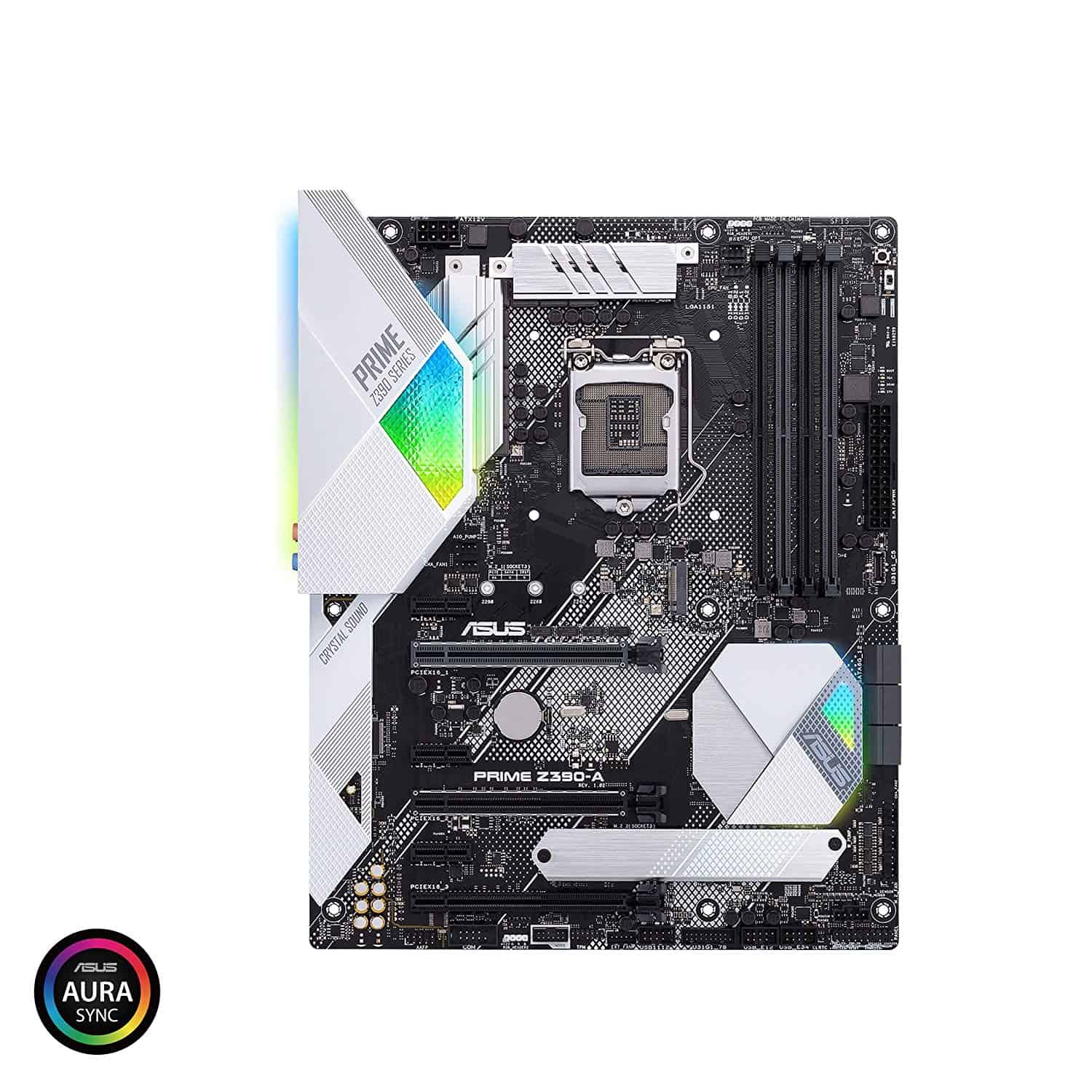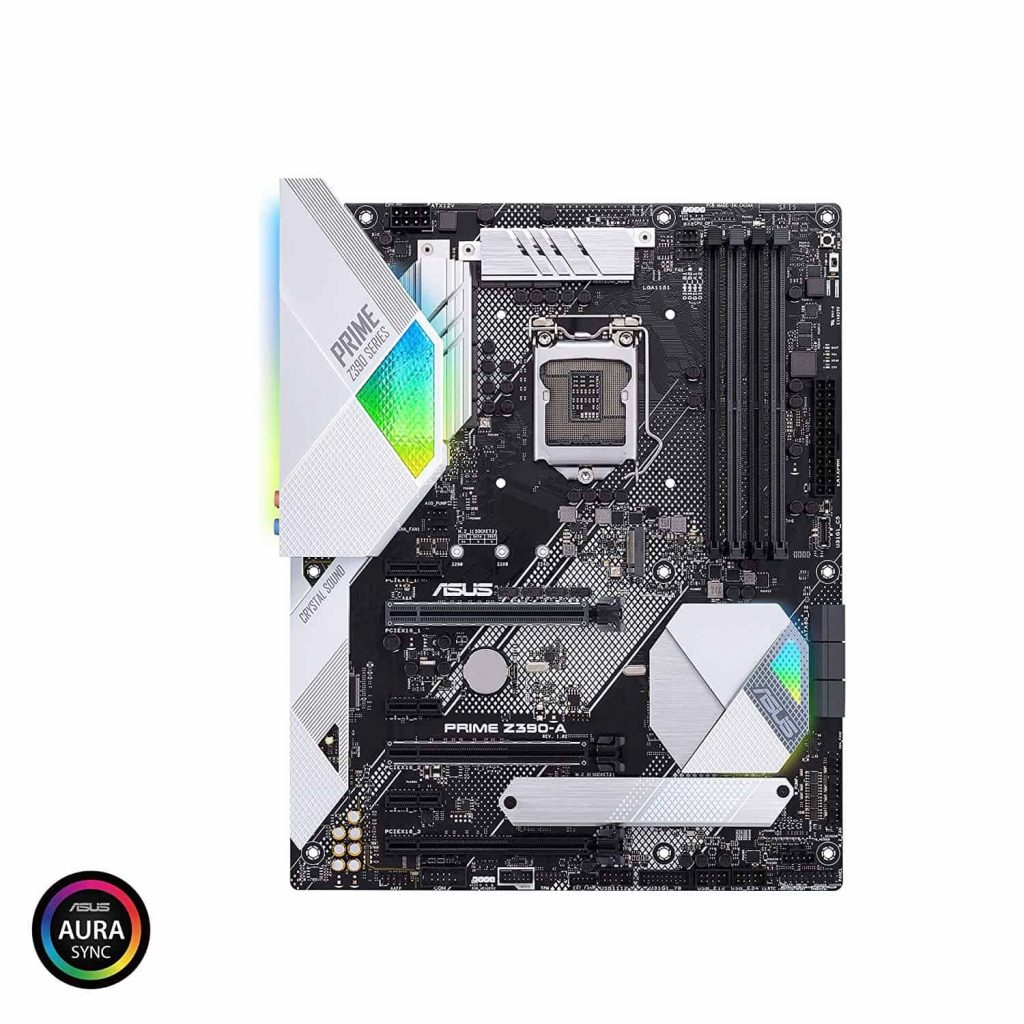 The Prime Z390-A is your best bet if you can't afford any of the above options, it can still get the job done of keeping your hardware secure along with giving you the capability to overclock, however, it does lack in some minor aspects which can be quite meaningful to some people.
+ 2x USB 3.1 Gen1
+ 3x USB 3.1 Gen2
+ 1x USB 3.1 Gen2 Type-C
+ 2x USB 2.0
+ Display Port 1.2
+ HDMI Display Port
+ 4x DDR4 RAM (Up to 64GB)
+ Allows CPU & RAM OC
+ High Satisfaction Rate
+ A good alternative to both motherboards if on a very tight budget
– RAM 4266Mhz OC when compared to MSI Z390-A PRO 4400Mhz OC
– Realtek ALC887 Sound Card vs SupremeFX S1220A Sound Card (The SupremeFX Sound Card in both the Strix & the MSI Z390-A PRO is better)
– No WIFI Incorporated
4. GIGABYTE Z390 AORUS PRO Wi-Fi – The Best WI-FI Motherboard for i7-9700K
REDUCED PRICE
GIGABYTE Z390 AORUS PRO Wi-Fi (Intel...
Supports 9th and 8th Intel Core processors
Dual channel non-ECC unbuffered DDR4, 4 DIMMs
Intel optane memory ready
12 plus 1 phases digital VRM solution with DrMOS
Advanced thermal design with multi cuts heatsinks and heat pipe. Bluetooth 5
5. ASRock B365M PRO4 – The Best Budget Motherboard for i7-9700K
ASRock B365M PRO4 LGA1151/ Intel B365/ DDR4/ Quad...
CPU: LGA1151, Supports 9th/ 8th Generation Intel Core Processors, CPU up to 95W
Chipset: Intel B365
Memory: 4x DDR4-2666/ 2400/ 2133 DIMM Slots, Dual Channel, Non-ECC, Unbuffered, Max Capacity of 64GB
Slots: 2x PCI-Express 3.0 x16 Slots (single at x16; dual at x16/ x4), 1x PCI Express 3.0 x1 Slot (Flexible PCIe)
Multi-Graphics: Supports AMD Quad CrossFireX and CrossFireX Technology
Summary / Our Opinion
Honestly, the Coffee Lake & Coffe Lake Refresh microarchitectures have provided the most significant changes of the past decade when compared to the previous generations; They not only increased the cores & threads but also maintained the superb single-core performance that we all expect from Intel Products. All in all, regardless of you picking the I7 8700K, the I7 9700k or even the I9 9900K, they're all great CPUs that influence our decision regarding a motherboard of choice.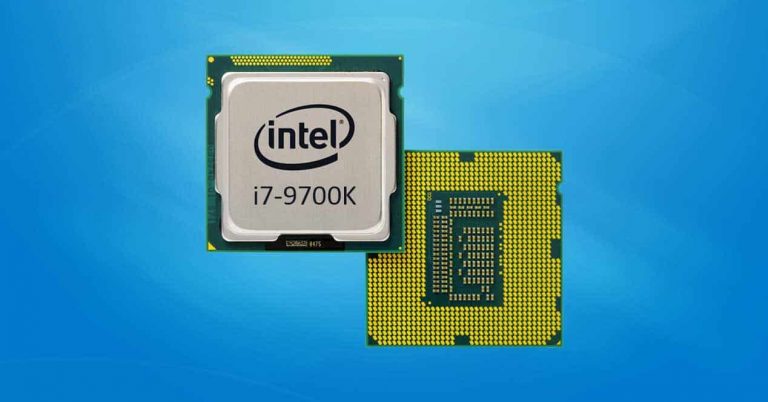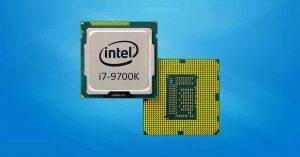 If you're looking for the absolute best, then the MSI Z390-A PRO is your choice with the Strix being a very good alternative, personally, we find the MSI Z390-A PRO design & overall capabilities to take the throne.
If you're on a budget, as mentioned before, you should go with the Z390-A despite having a weaker sound card, no WIFI Incorporated and a couple of other minute differences.
Read: These are the best motherboard CPU combos
FAQ
What's the difference between the 10nm+ process & 10nm & the 14nm process used in older generations?
The 10nm+ process is a direct upgrade of the 10nm & 14nm process, this means that the 10nm+ process method improves the performance of each capacitator while also reducing the power needed, for people that aren't very technical, this may sound confusing, as such I believe this graph explains it pretty well, it's much easier to understand it by visual help rather than reading about it. Unfortunately, Intel has not yet decided to use the 10nm processing method on their mainstream CPUs despite early leaks pointing that the I7 9700k would be the first mainstream CPU to use it.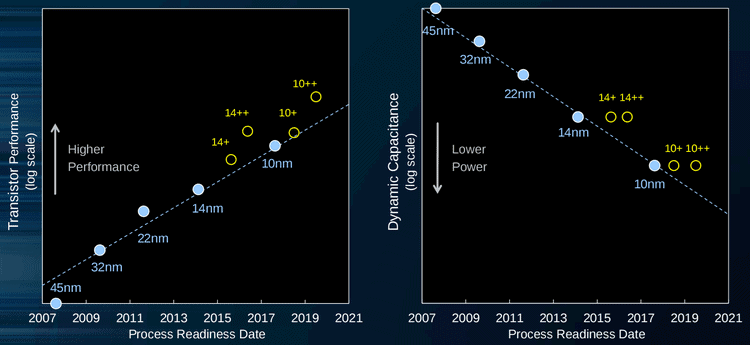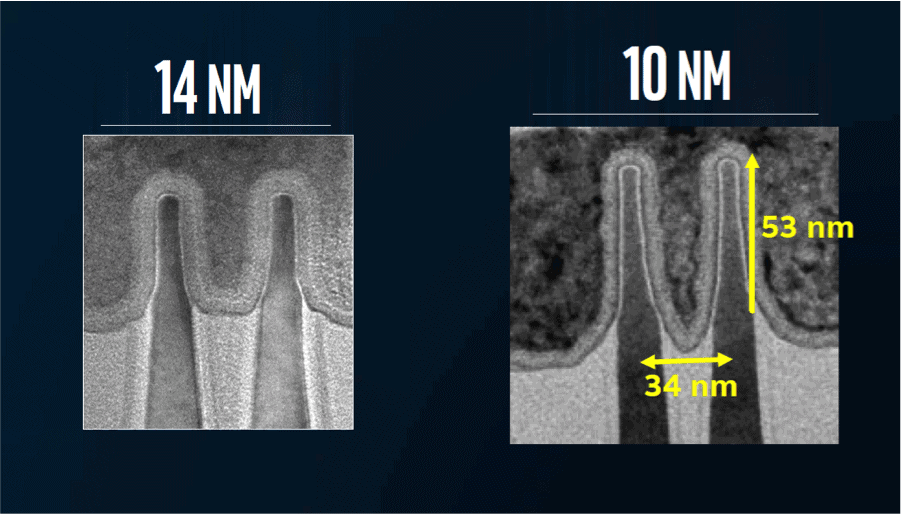 Are you sure that the Coffe Lake Refresh Generation CPUs are Compatible with these Motherboards?
Yes, although the Z390 motherboards were initially released for the Coffe Lake-S CPUs, new versions have been launched making them also compatible with the 9th Generation.
Can The Z390 Overclock?
You can indeed overclock with them; if you've got a quality motherboard, then it will surely allow overclocking, with this said, we still recommend to take the necessary precautions & take the overclocking slowly and steadily to avoid damaging your hardware.
Which is the Cheapest Z390 Motherboard?
The Z390-A Prime is the cheapest option in our list by quite a stretch. Going for the cheapest option may not be ideal due to certain lack of features such as sound card not being as good and no onboard WIFI, however, if you don't have an issue with that then it's a perfect choice for you.
What's The Cheapest I7 7700K On The Market?
The I7 7700K has been out for a couple years now (as of November 2022) and as such he price has reduced drastically, at the start, it didn't matter much since the price was very high and similar on most stores & websites but it's different now and from what we've found Amazon has the cheapest I7 7700K for sale right now.
About the I7 9700K, Intel & AMD Rumors
Rumor says that Intel finally started to increase the Cores from their CPU due to AMD's competition & the release of AMD Ryzen, this theory is further supported due to Intel's earlier release of the I7 8700K which bumped the cores from 4 to 6 and threads all the way up to 12. However, Intel decided to completely crush their competition by releasing the Coffee Lake Refresh Architecture which features 14nm+ processing.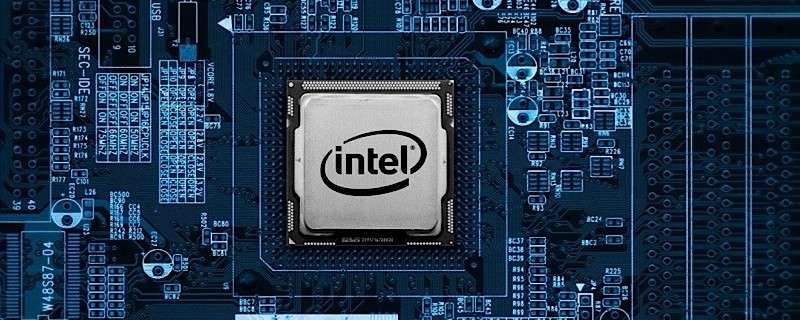 During the early stages, leaks told us that the I7 9700K would be using the 10nm processing method, which is a direct improvement of the 14nm process used by most generations in the past few years. Unfortunately, it's been exposed as a false leak, and it will instead be featuring the 10nm processing. (Check the FAQ at the bottom of the page for an explanation of the difference between 14nm and 10nm processing).
Even though Intel didn't upgrade from 14nm to 10nm, they still increase the numbers of cores & threads of the I7 9700K, this is a massive upgrade from the already innovative I7 8700K. The cores went from 6 all the way to 8, however, unfortunately, the threads have actually been reduced down to 8 along with no Hyperthreading, overall, this isn't much of an issue considering the extra 2 cores and if you're into gaming, hyperthreading was never important for gaming, to begin with (yet anyway.)
Intel is apparently competing and trying to crush AMD since increasing core & thread count was AMD's trademark while Intel usually preferred to stay on the low core & thread count with insane single-core performance.
The increase in cores and threads is great news for video editors & gamers all around the world due to the benefits that they bring. Video editing will be faster & smoother, as well as in gaming the FPS boost will be enormous when compared to the top CPUs from a few generations back. As games start to become more optimized for hyperthreading the better will I7 CPU's be.
The release of Coffe Lake Refresh makes the release of the 8th generation of CPUs (Coffee Lake) to be one of the shortest living generations of the past decade. Although the 8th generation is still good concerning performance, they would not be worth the money since not long after the 9th generation was released in the second half of 2022.
With this said, if you're planning on making a gaming rig with this excellent CPU then you should also focus on getting a good gaming motherboard to go with it.
Getting a powerful board will not only allow you to overclock it to the extreme thus improving single-core performance, but it will also provide stability & security to your system, which is something you should not disregard, without further ado, let's answer your question.
Round up of today's best deals
Asus Prime H310M A R2.0/CSM Intel Chipset LGA-1151...

$127.90

$119.80

VIEW

ASRock Intel B365 Chipset Motherboard, B365M-HDV

$69.99

VIEW

ASUS Prime Z390-P LGA1151 (Intel 8th and 9th Gen)...

$280.00

VIEW

ASRock H370M-HDV LGA1151/ Intel H370/ DDR4/...

$82.99

VIEW

MSI Z390-A PRO LGA1151 (Intel 8th and 9th Gen) M.2...

$399.99

$298.68

VIEW